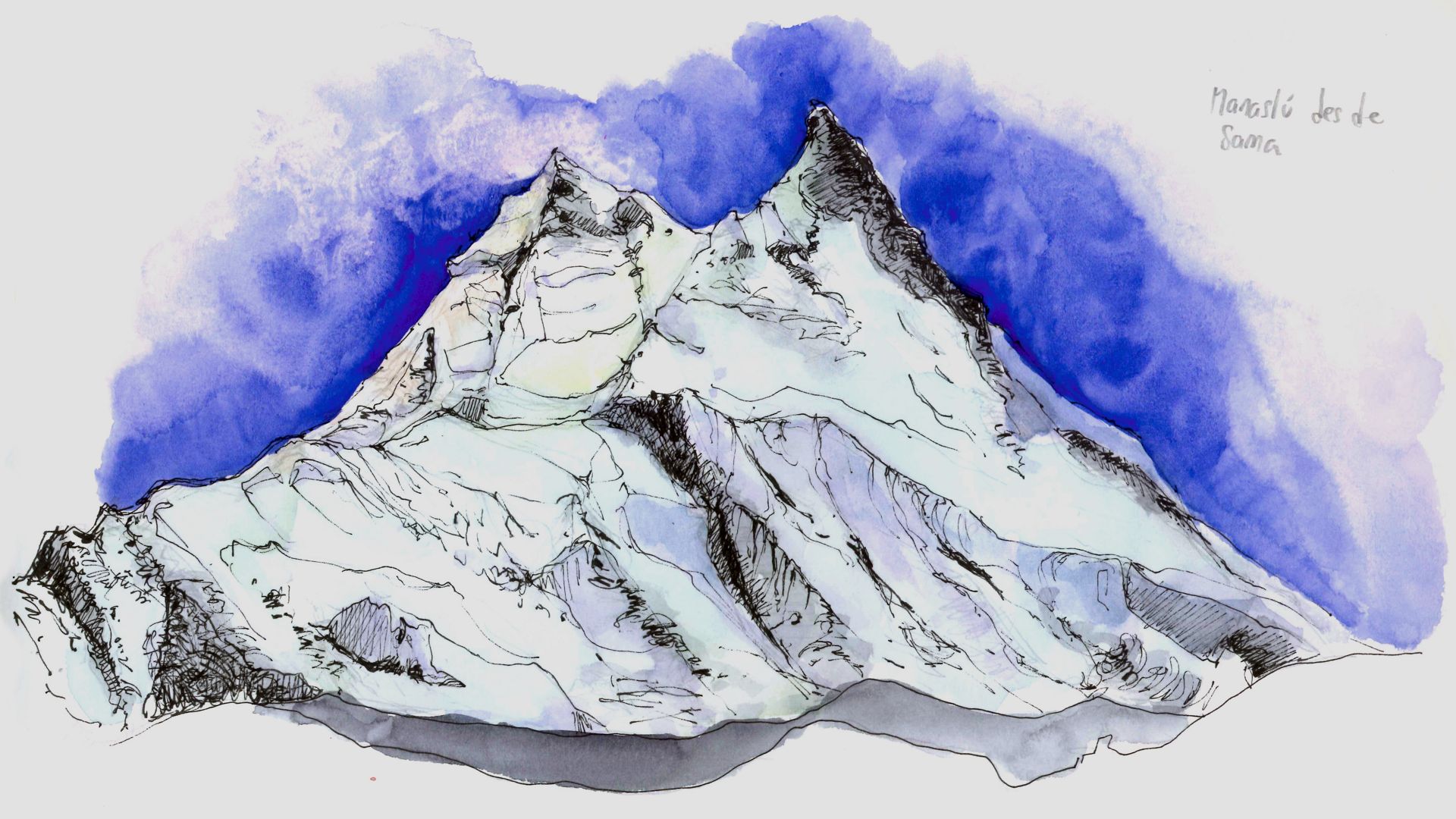 from 4th to november 25th
JOURNEY ON FOOT AROUND MANASLU AND THE ANNAPORTS
Place: Art room and frame workshop of ART 32. C. del Pont, 4
Schedule: Monday to Saturday from 9:30h. to 13:00h and from 17:00h to 20:00h.
Nepal 2011. We walk along the Himalaya with a guide and some carriers to the foothills of Manaslu, the eighth highest mountain in the world. Thanks to the magic of a notebook we traced bridges between the Nepali and ourselves, the small drawings were the perfect pretext for this connection. We invite you to discover the drawings and the profound motive for the trip in this exhibition.
Cristina Curto i Teixidó is the author and collaborator of several publications on urban drawing, scientific dissemination and travel notebooks, the latest of which are self-published and more personal. More information:
Sketching workshop
Day: Saturday November 11
Time: From 9:30h to 14:00h
Workshop with practical outings around Torelló by Cristina Curto. For information and inscriptions: Art-32 Frames Workshop. Tel. 93 859 19 70 / 93 851 73 88
11 de Novembre
Xerrades tècniques
EL CASAL
Sala Petita
17h30 | Fotografia a la muntanya
A càrrec de: Josep Fontdecaba, tècnic
Organitza: Josep Basco, fotògraf. www.josepbasco.com

Càmeres de videoaventura i tot el material fotogràfic que podem necessitar per a realitzar bones imatges de muntanya.
18h15 | La bicicleta elèctrica de muntanya
A càrrec de: Toni Girabent
Organitza: Girabent Bicicletes. @girabentbicicletes

L'objectiu és apropar la bicicleta elèctrica de muntanya al públic en general. Es repassaran els diferents tipus de bicicletes existents, el seu funcionament i les possibilitats que ofereixen.
19h00 | Medicina Tradicional Xinesa per a lesions
A càrrec: Silvia Magem Raurell, llicenciada en Medicina Tradicional Xinesa i terapeuta.
Organitza: Puntsalut - Centre de teràpies. www.puntsalut.com

La medicina tradicional xinesa, basada en una cultura i saviesa de més de 2.000 anys, aplica les seves tècniques com l'acupuntura o la fitoteràpia per a resoldre lesions agudes i cròniques, amb resultats sorprenents.